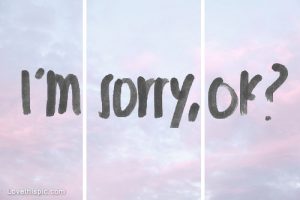 Apologies and forgiveness are two terms we (humans) tend to throw around quite a bit. What makes a good apology? Most of us know how it feels when we receive a sincere one, but it can be tough to explain to another person (especially if they have offended us) what a good apology is. Luckily, like most things I write about, there are three steps to understanding what makes a good apology:
Divide the scene into 'actor,' and 'receiver;'
Validate your own feelings
Ask/Act.
An offense usually involves an 'actor' and a 'receiver.'
A car swerved on the freeway and your car received a dent.
Your wife had sex with your best friend and your marriage received a dent.
Your sister took a swing and your bicep received a dent.
Even if we know the driver was on the way to a hospital emergency, your wife was lonely, or your sister was mad because you called her ugly, we can still identify the person who 'acted' (did the thing), and the person who 'received' (was impacted by the thing). Dividing the scene not only allows us to identify the 'actor' and the 'receiver,' it allows us to have empathy with the actor without excusing his or her actions. For example, we can all empathize with a father who is driving erratically because his son is in the hospital, the wife who is lonely, or the sister who is angry. This empathy won't pay for a damaged fender, repair a marriage, or heal an arm though. Furthermore, hospital emergencies don't cause dents; loneliness doesn't cause cheating; and teasing your sister doesn't cause assault. Rule number one, filed under "things I was supposed to learn in Kindergarten," is I am responsible for my own actions. This means we can have empathy for the actor AND expect her to exhibit self-control.
Validate your own feelings.
Empathy will help you forgive the actor in time, but for now we'll put it aside so you can focus on how you feel. This can be tricky because so many of us get locked into the role of empathizer. We can all empathize with a parent who is out of sorts because he just found out his child had an accident. We've all been lonely in a relationship. We even know teasing is verbal abuse and recognize our sister's anger when she pulls her fist back to hit us in the arm. Feelings don't predict actions (for example, just because I feel hungry doesn't mean I will go rob a bank to get the money to buy food). Rather, feelings help us tune in to what we need. When we feel hungry, we eat. When we feel the need to go to the bathroom, we excuse ourselves and try to locate the facilities. It's vitally important as the 'receiver' that, for a time, you put aside empathy and recognize any feelings you have in this moment. You may feel scared after a car accident, betrayed after an affair is discovered, or shocked after getting hit in the arm. Take a moment and validate those feelings. Think about what you need, and decide what you might ask the actor to do or say in order to repair the relationship.
Act/Ask
First and foremost, you may ask the actor to say, 'I'm sorry.' Then, you may ask the actor to take responsibility for his or her actions without blaming, justifying, or minimizing the behavior. Finally, you may ask the actor to make a special effort to repair the relationship (often referred to as rebuilding or making amends). Put all of those together and voila! You have the makings of a great apology.
Let's look at an example.
I live in a part of the country where the freeways are enormous and overcrowded. When there is a lull in traffic, lots of empty space, or the traffic is free to move, it is not uncommon for me to speed. Yes, I will put the pedal to the metal and push my little Jeep over the posted speed limit. I don't feel like I am being dangerous, I only do it once in a while, and usually it is because even though I planned ahead, there is a wreck so I am running late. But yes, I speed. And I am sorry.
Is this a good apology or a bad apology? After all, I admitted my actions, (I broke the law) and I said, 'I'm sorry.'
It was terrible!
I justified my actions by explaining, "I'm not dangerous"
I blamed a wreck for my actions
I minimized my actions by saying, "I only do it once in a while" (justifying, minimizing, and blaming are relationship killers by the way).
I could have made it even worse by saying things like, "I said I was sorry. Can't you just drop it?" or, "Why can't you trust me? I'm not speeding right now!"
On the other hand, a Rebuilder/Amends-Maker:
Is quiet. She apologizes and stops talking. She won't justify, minimize, or blame and she will leave lots of empty conversation space.
Is busy. She is willing to go to therapy (or in my example, defensive driving), meet with healthy peers, read books, and generally work on herself, without pressure from the receiver.
Is humble. She won't fight for her rights in an argument and she allows the receiver to feel (be sad or angry) after her actions.
If you find that the person who 'acted' is not able to make a good apology and rebuild, then you may need to act. If it's a relationship you don't care to maintain, then you may need to just walk away. If it's a relationship that is important to you, then you may need a mediator to help you work on what's going on. Don't be surprised if you need to make some apologies and amends too, but don't get ahead of yourself. Divide the scene and validate your feelings. Your important relationships will thrive from this model because old wounds will finally have a chance to heal.